Deadline to Enter: 11:59 pm, August 18, 2019

What is THE LAB?
THE LAB is a space programmed by VAE Raleigh to experiment with different themes and challenges for our creative community. Produced as part of VAE Raleigh's exhibitions program, THE LAB provides artists with a chance to exhibit in a highly-visual space that offers engagement with visitors and those that pass by VAE's large storefront windows.

EXHIBITION STIPEND - $250
VAE to offer a $250 exhibition stipend for each exhibit.

DEADLINE
Proposals for THE LAB are due by 11:59pm, August 18, 2019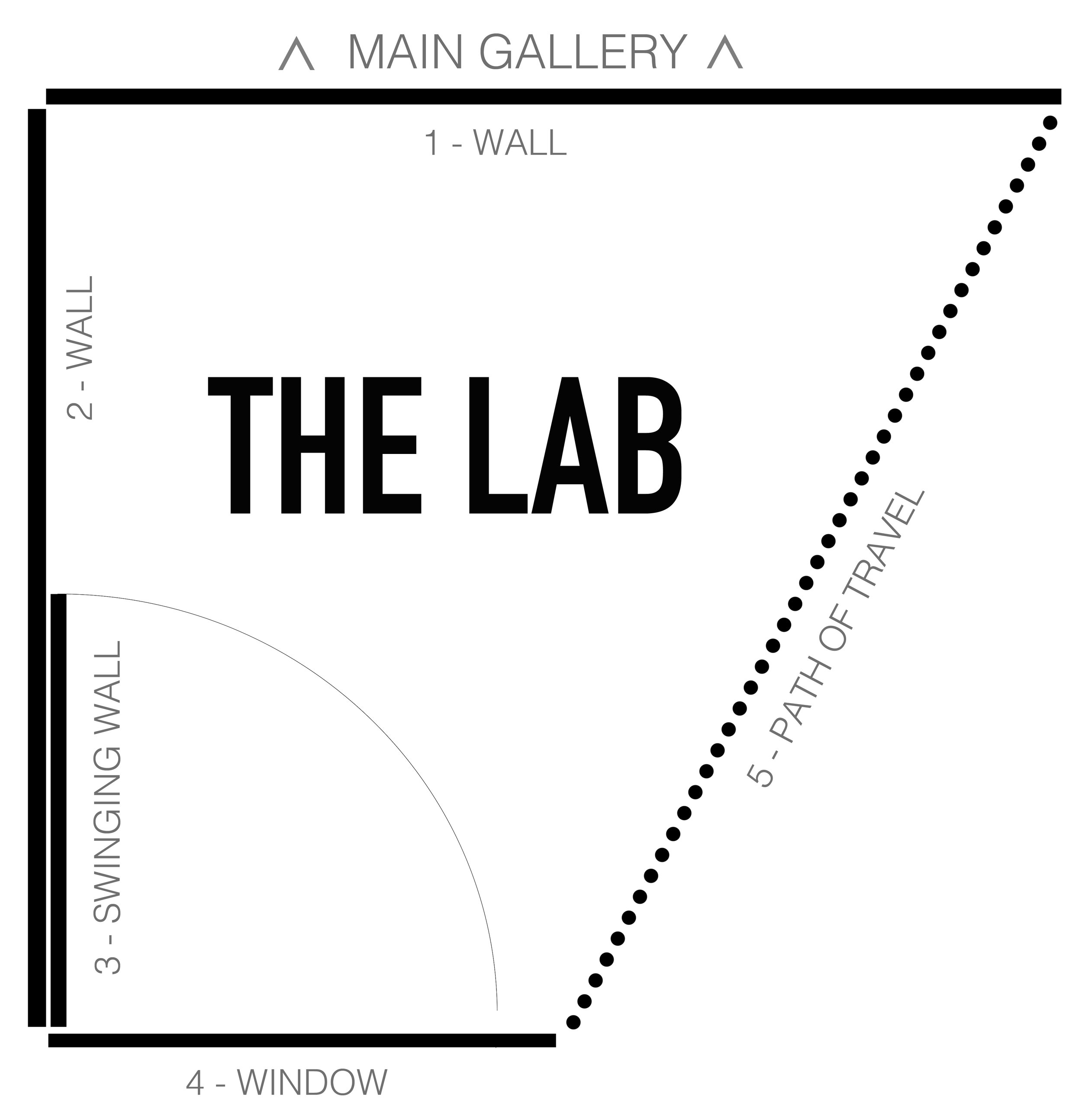 THE SPACE
Located in the storefront of our main gallery space at 309 West Martin Street, THE LAB offers artists the ability to make their exhibition the front face of VAE.

THE LAB features 2 large windows, 4 walls, 14' ceilings and just over 550 sq. feet of floor space. The floor is concrete and cannot be drilled into. Electricity is available in the space. There is ample natural light and track lighting. Therefore, artwork that is light-sensitive may not be the best fit for THE LAB as there is no way to completely block out the sun, but we invite you to show us how it can be done in your project proposal.
1 - WALL: this wall separates THE LAB from VAE's Main Gallery space. The wall is 12'9" x 19' 10" (h x w).
2 - WALL: This wall is 9' x 11'2"
3 - SWINGING WALL: This wall is mounted on a large, sturdy hinges that allow it to swing away from the wall, exposing the building's electrical panels. Artwork mounted on this wall should be done in a way that makes it secure enough to move with the wall. Artwork placed in front of this wall should be easily movable.
4 - WINDOW: The window is 12'6" x 10'. At the base of the window is a 17.5" section of brick and cannot be drilled into. Atop this section is a 6.5" wide wooden ledge. The two clear window panes are 86" tall with VAE's logo in the corner, 60" from the bottom ledge. Above these two clear panes of glass (103.5" from the floor) is a 4" piece of wood, with the possibility of installing a hanging rod.
5 - PATH OF TRAVEL: This is an invisible line going along the gallery floor between the left side of VAE's front door and Wall 1. This is the designated path of travel for gallery visitors. The line spans 21', The floor cannot be drilled into or altered in any permanent way.
THE CEILING: The ceiling is 12'6" tall and made of tin. Nothing can be drilled into or nailed to the ceiling. Objects less than 2lbs can hang from the ceiling using magnets.
SUBMIT YOUR PROPOSAL
ELIGIBILITY
THE LAB call-for-proposals is open to all artists, artist teams, and curators. Proposals must show promise and good conceptual grounding that are collaborative in nature. Applicants do NOT need to be a VAE member to apply. However, at least one participating exhibitor/collaborator will have to be a member at the time of the exhibition. Learn more about memberships HERE. All media is encouraged.

We will not exhibit or financially support work that co-opts the story of a community without representation from that community acting in a decision making role.

APPLICATION EVALUATION
Applications are evaluated by VAE staff and guest curators. Applicants will be notified via email (on a date that's TBA) after the review of their application.

APPLICATION GUIDELINES
Application materials include: a project statement, contact information for participating artists, resume(s), image inventory, 5-10 samples of your work, and a non-refundable application fee of $10 for members and $15 for non-members.

Project Statements should be no longer than one page and should describe your proposed collaborative idea.

Resumes should show prior exhibition history.
Image Inventory should provide important details about the support materials submitted. Your inventory must contain the following information for each sample: the file name ("01_LASTNAME _TITLE.jpg"), title, medium, dimensions, retail price (if applicable) and year of completion. Upload your inventory as a .doc or .pdf file.

Application Fee must be processed in order for your application to be considered complete. You will be directed to the payment page upon submitting your completed application.

5-10 Samples* of Your Work** All files should be named like so:
>01_LASTNAME _TITLE.jpg,
>02_LASTNAME _TITLE.jpg,
>03_LASTNAME _TITLE.mov, etc.

Still Images should be sent as jpegs should be at least 1000px at their widest dimension, not to exceed 2MB per image. 2D artists may submit one JPEG per entry. Follow the filename format for works as indicated above.

Video samples should be edited to no longer than 2 minute excerpts. It is strongly preferred that video & audio artists submit their work online through clips or URL addresses to online sharing formats like hulu, vimeo, youtube, or dropbox. Videos submitted as uploaded files should be submitted as Quicktime files whose width is no larger than 720px and file size is no larger than 10MB (as that is the largest file eligible for upload on our entry software). Video pieces will only be accepted for exhibition if they are captioned, either with open captioning that is integrated into the video, or closed captioning that can be turned on when needed. Read info about captioning videos on Youtube, with iMovie, or Quicktime! Please only submit video art or video documentation of an art piece that requires video to be fully experienced. Do not send video walk-throughs of static exhibitions or video slideshows. While web-hosted submissions are strongly preferred, video and audio samples can be submitted on CD if necessary. Please contact Kyle Hazard to make arrangements for CD delivery prior to deadline. Follow the filename format for works as indicated above.

Audio should be submitted as separate MP3 files. Each track should be no longer than 2 minutes. Follow the filename format for works as indicated above.

Web-based work should be submitted as a URL listed in the work sample list. Please only submit web-based projects. A portfolio website that features audio/video art and still images will not be considered.

*Artists applying with still images only should send 5-10 .jpegs. Artists applying with video only should send 5 samples maximum. Artists applying with audio or web-based work only should apply with 5-10 samples. If you are sending a combination of file types, keep in mind that one video or audio file is equivalent to five .jpegs and adjust your sample number accordingly. Extra submitted files will not be reviewed.

**If the work you are proposing to exhibit in THE LAB is still currently in progress, no problem! You can submit .jpeg drawings of what you expect the work will be like, or you can rely solely on images of your past work and your written narrative to describe the work you are proposing. It's your call! THE LAB selection panel is interested in both the work you are applying to the show and your past work.

Incomplete or inaccurately assembled applications will not be considered. Notifications of acceptance or rejection will be sent via email. Please update your contact information if anything changed before you receive a notification.

THE FINE PRINT

EXHIBITION INSTALLATION AND MAINTENANCE: Artists are allotted 4 days to install their work. The installation must be fully complete by 2pm EST on the Thursday before the First Friday reception. Gallery staff is happy to support you during the installation of your exhibit, but the bulk of the responsibility of installing the work is that of the applicant(s). VAE provides wall vinyl signage for each show. Any maintenance required during the duration of the exhibit (other than turning the space on and off) is also the responsibility of the applicant(s). If the exhibition requires regular interaction (e.g. turning a piece on in the morning and off at night) from gallery staff, it is up to the artist(s) to make certain that the components of can be operated while standing on the floor and that there are written directions for operating the piece. At the end of the exhibition it is the artist's responsibility to return the the space to its original state by painting, spackling, sweeping, etc.. VAE is happy to provide materials such as spackle, sandpaper, brushes, rollers, drip cloths, etc., but if extensive repainting or repairs are required, the artist may be asked to contribute money to purchase supplies, or to put down a refundable deposit prior to installation.
MONEY: The only fees associated with this exhibit are the initial application fees ($10 members/$15 non-members). VAE does extensive online marketing of the shows (including your own page on the VAE website), but does not print post cards.
SALES & COMMISSION: You do not have to offer salable work in THE LAB. Should you decide to, VAE earns a 25% commission on the sales of members' works, and 30% on sales of non-members' works.